Yes this is what happens when lolies go out to party. (And decide to do it
Pinkie Pie style...
) And get sugar high...(Yup it's only Coca Cola)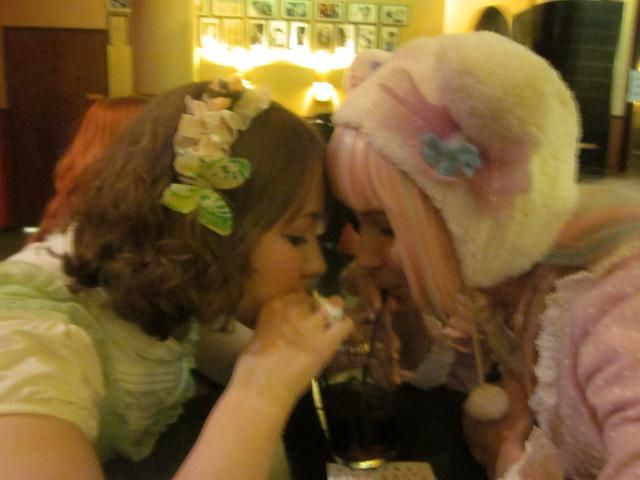 Thank you so much
Asio Otus
for arranging this and every one who was there! So many people wanted to take a picture with the "lolita girl" and made me almost feel like a celebrity being chased by paparazis.
For some reason I've been reminded how incredibly starry eyed I was (well still am) about other lolitas, when I started. I was (am) self conscious about my age and went into this: " I hope these gorgeous demigod creatures let me worship them from a far, and I don't offend them if I humbly wear a few humble ruffles as a wall flower in the corner. I really honestly considered just running away in terror, when I went into my first Terrible's event in lolita, and the all mighty powerful
Kainoliero
herself asked me to come pose in her group photo! I remember seeing
Mimi
in a book store and trying and trying to work up a courage for ages to come and tell her her outfit blew me away and ask for an autograph or something, but I just couldn't do it. How kind everyone has been really has been really kind and welcoming really has been one of the biggest positive suprises of my life! It still feels so unreal sometimes how many of these gorgeous creatures I just wanted to be a fan of are now actually my friends, and I am mystified and so grateful! Thank you so much dears!